An initiative of the MRC Vallée-du-Richelieu
The M.R.C. of La Vallée-du-Richelieu was granted $180,000 in government financial assistance through the RECYC-QUÉBEC Crown corporation as part of the Transition to the Circular Economy (APTEC) call for proposals to support the creation of a industrial symbiosis circular economy in its territory. The announcement was made at
of a press conference at the M.R.C. head office in McMasterville on October 25th. The financial support announced will help the region's industries, businesses and institutions (ICIs) move towards the consolidated management of resources, reduce their costs and even change their business model. The objective is to enable organizations in the territory to be equipped with the advantages, best practices and success factors related to the implementation of the circular economy.
Concrete actions
The project will enable :
Analyze economic activities to identify actions of circularity in the
products and services of the ICI involved.
Keep products, components and materials in use for as long as possible.
Raise awareness among CCIs about designing products that are sustainable, repairable, more recyclable and more environmentally friendly.
without hazardous materials.
To facilitate the development of channels to provide maintenance, repair and overhaul services.
repair, reconditioning.
Watch an interview given by the project leaders.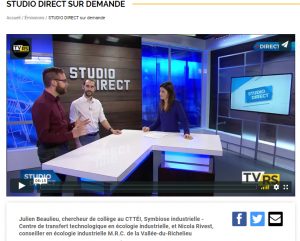 Hiring an Advisor
To carry out this projectindustrial symbiosis, the M.R.C. has hired Nicola Rivest to act as an industrial ecology consultant. The Centre de transfert technologique en écologie industrielle (CTTÉI) will provide technical and scientific support to the project to optimize the success of the networks and identify the best outlets for the materials.
If you have any questions or would like to join the initiative, please contact Nicola Rivest at :
Tel: 450 464-0339, ext. 2003
nrivest@mrcvr.ca | www.mrcvr.ca