Sorel-Tracy, May 12, 2020 - The Synergie Québec community, led by the Centre de transfert technologique en écologie industrielle (CTTÉI), is launching the first Synergy Compendium of 11 concrete and inspiring cases of achievements in the circular economy in Québec.
In this Synergy Compendium, 25 companies and organizations provide figures on the impact of their business synergies. Industrial symbioses promote the extension of resource life, innovation, savings and the reduction of GHG emissions.
Within the Synergie Québec community, facilitators of 22 territories are working hard to meet the needs of businesses by setting up win-win meshes. The Compendium puts forward several of these successful partnerships.
"The facilitators support businesses in the implementation of synergies to make the most of their resources, whether it be residual materials, under-utilized equipment, labour or transportation," explains Jennifer Pinna, circular economy advisor at the CTTÉI and community facilitator.
They help them find value-added outlets for their residual materials. They go in search of local, eco-responsible and cheaper raw materials. A service that generates opportunities that are as beneficial to sustainable development as they are to corporate finances.
A Compendium to Inspire
The Compendium is a valuable tool for all players in the circular economy in Quebec. Political and business decision-makers, economic development, environmental protection and social economy organizations, educational institutions and the general public will all find unsuspected ideas and opportunities in the Compendium.
A timely inspiration. "With the upheavals of COVID-19, it is clear how agile the collaborations we are activating and supporting are. Since the beginning of the pandemic, we've been sharing information to quickly find suppliers and set up new supply chains. Our partners are leveraging their local resources to make visors or hydro-alcoholic gel," says Pinna. "The circular economy is emerging as a major tool for recovery. »   
The Compendium is part of the research work of the Research Chair on Industrial and Territorial Ecology (CRÉIT) led by the CTTÉI and the Cégep de Sorel-Tracy.
To consult the collection, click here.
420 synergies achieved
17,800 tonnes of residual materials diverted from disposal
4.3 million in savings for participating businesses
9,200 tonnes of CO2 equivalent of GHG reduction
The Synergy Compendium was made possible thanks to the collaboration of the symbiosis facilitators: Antoni Daigle and Karine Thibault, from Synergie Estrie; Luc Massicotte, from Synergie Matanie; Audrey Roberge, from Économie circulaire Capitale-Nationale; Melissa Stoia, from Synergie Montréal; and David Verville, from Économie circulaire Arthabaska-Érable.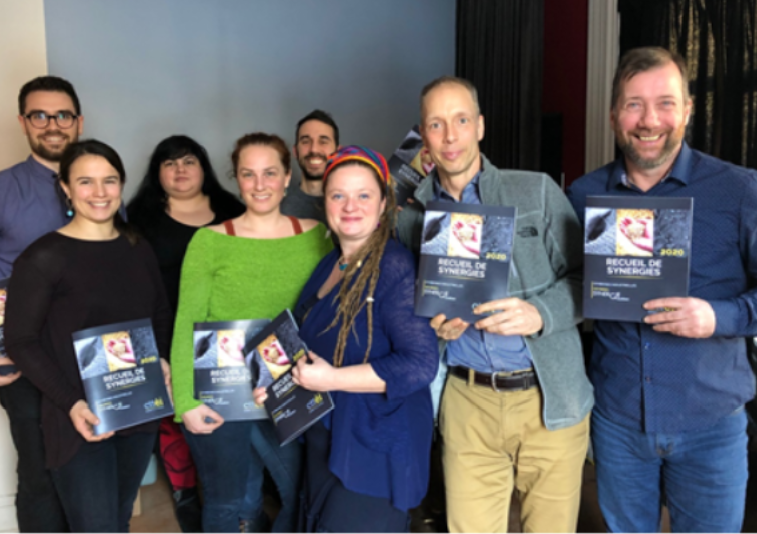 Synergie Québec would like to thank all the companies that have shared their spin-offs in the Compendium : Microbrasserie Multi-Brasses, l'organisme Sécurité alimentaire, Innomalt, Entosystem, Café Vittoria, Arborinnov, International Visual Corporation (IVC), Papiers et Emballages Arteau, Quebec Port Authority, Quebec City, Englobe, Desjardins, École Logique, Ville de Métis-sur-Mer, Municipality of Baie-des-Sables, Studio Artefact, USD Global, Beauchemin Industriel, Duclos Assurances, Nordik Blades, Pantoufles Garneau, Transport Grayson, Fermes urbaines Ô Plant, and Blanc de gris - Fresh mushrooms.
About the Synergie Québec community
The Synergie Québec community is a community of practices dedicated to industrial symbioses and circular economy projects led by the CTTÉI. It brings together more than 2,200 businesses driven by the desire to make financial gains and contribute to local growth while promoting sustainable development. This unique network provides applied research services, animation, tools and methodologies and visibility to all those involved in the transition to the circular economy.
About the CTTÉI:
Since 1999, the Centre de transfert technologique en écologie industrielle has been developing and sharing unparalleled expertise in waste management. It enhances the performance of enterprises and communities through research and development of innovative approaches and technologies, of which the Synergie Québec community is a part.