Over the past few months, the Synergie Québec Community has grown considerably! From east to west, from Gatineau to the Gaspé Peninsula, the Community now has 14 territories involved in a project industrial symbiosis supported by the Centre de transfert technologique en écologie industrielle (CTTÉI).
Synergie Québec brings together networks of organizations interwoven with each other through exchanges of resources, of waste, water, energy and innovation
A "GENERAL" PUBLIC SITE
More accessible than ever, Synergie Québec's new public page, www.synergiequebec.ca, presents the Community of Industrial Symbiosis Facilitators. In the field, they are the ones who accompany companies, identify synergies and facilitate exchanges. Their background is unique, their expertise complementary! The co-creation of tools is at the heart of the Community. It promotes interdisciplinary work, creativity, innovation and transfer with CTTÉI experts.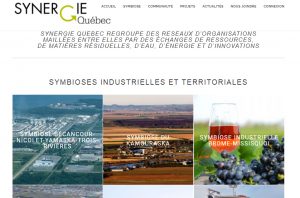 Even closer to the needs of businesses, each territory can now publicly post its offers and requests for featured resources in the "Opportunities to be seized" section! Don't hesitate to check it out frequently... And things are happening in the Community! Consult the calendar to find out where and when its activities are held. Come and meet us!
A PRIVATE PLATFORM
New skin also for the Synergie Québec private networking tool. The program developed in collaboration with GeoFabric offers brand new functionalities for industrial symbiosis carriers.
Faster, user-friendly and accurate, the tool helps to identify synergies in the territories. Even better, it allows the calculation of gains and greatly simplifies reporting. Quantity of tons of material diverted from disposal? Savings related to a synergy? Synergie Québec can answer these questions!
INITIATE A PROJECT OF INDUSTRIAL SYMBIOSIS 
It industrial symbiosis is intended for any organization, industrial park, city, MRC or region that wishes to optimize the use of both tangible and intangible resources on its territory. Using the tools of industrial ecology, symbiosis is a further step towards the circular economy. Want to know where to start and join the Community? Contact us now!