UPDATE - 08 December 2012. Please note that applications for this position are now closed. Are you interested in the CTTÉI? Do not hesitate to send us your unsolicited applications to info@cttei.com.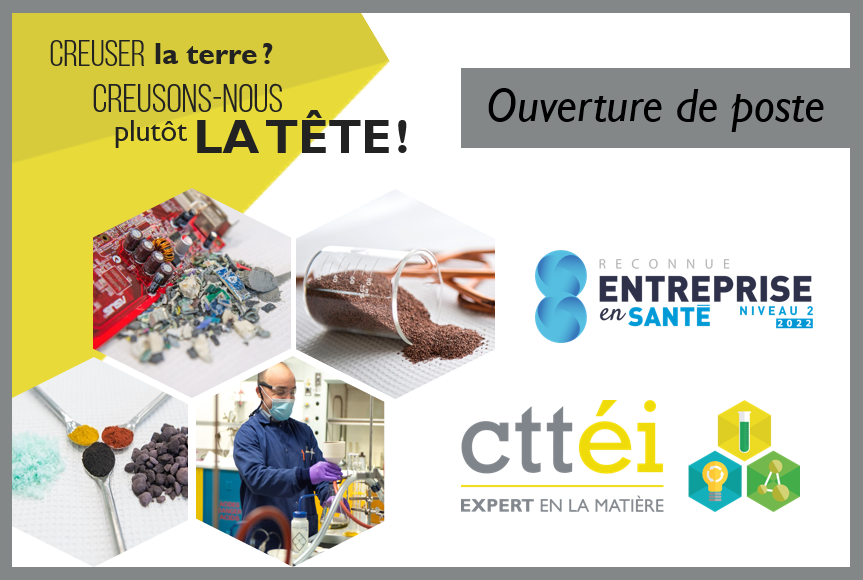 The CTTÉI is recruiting a researcher specialized in the recycling of critical and strategic minerals (CSM), to participate in our projects on the recycling of batteries, electronic waste, metallurgical by-products and the development of innovative clean processes.
Your future employer
An industrial ecology applied research center with stimulating laboratories!
As a precursor in the circular economy, expert in the recovery of industrial residues and in the development of clean processes, the CTTÉI's projects are growing and multiplying as the need to make a shift in our industrial and economic practices becomes apparent. We need help to pursue our mission.
With its new laboratories and state-of-the-art equipment, the CTTÉI offers a welcoming and stimulating work environment. Everything is done to promote dynamic collaboration among colleagues. Recognized by the Groupe Entreprises en Santé, our workplace is committed to work-life balance, diversity and inclusion. It is possible to telework up to 3 days/week.
We like to combine professional efficiency with personal caring. Join our passionate team!
Your mission
Be part of the solution - Contribute to the fight against climate change by taking part in the following tasks
Develop recycling processes for industrial residues, particularly related to mechanical conditioning, extraction and purification of SCMs
Contribute to a variety of technical assistance and applied research projects in industrial ecology
Plan and supervise laboratory tests performed by technicians
Compile and interpret results, make recommendations
Write technical reports and present results to clients
Communicate the results of the work at national or international conferences or through publications
Work in collaboration with other members of the research community, enhancing your network and expertise
Bring innovative ideas to develop your research niche
Participate in business development (international travel possible)
Youreducation and previous experience
University education in chemistry, engineering or other relevant field;graduate orpost-graduate preferred
Experience, study or interest in metals and minerals recycling, especially hydrometallurgy
Experience in industry or research (asset)
Your talents
Agility, openness to change, ability to adapt to a variety of projects
Ability to conduct collaborative research
Rigor and intellectual curiosity
Good level of oral and written French is mandatory; good knowledge of English is an asset
Working conditions
Full time and permanent, 35 hours/week
Flexible hours and telecommuting: up to 3 days/week, when projects allow it
Salary according to experience and qualifications
Benefits: disability, extended health, life insurance; sick leave; employee assistance program (EAP); group RRSP
Desired start date: as soon as possible/to be discussed
To apply
Send us your application by email to info@cttei.com.
If you have any questions or wish to discuss the opportunity, you can contact our Scientific Director Jean-François Vermette at jeanfrancois.vermette@cttei.com.
Priority will be given to contacting those whose applications we have selected.