Sorel-Tracy, November 29, 2022 - The Centre de transfert technologique en écologie industrielle (CTTÉI) and Synergie Québec present a growing variety of examples of circular economy in the third Compendium of Synergies 2022.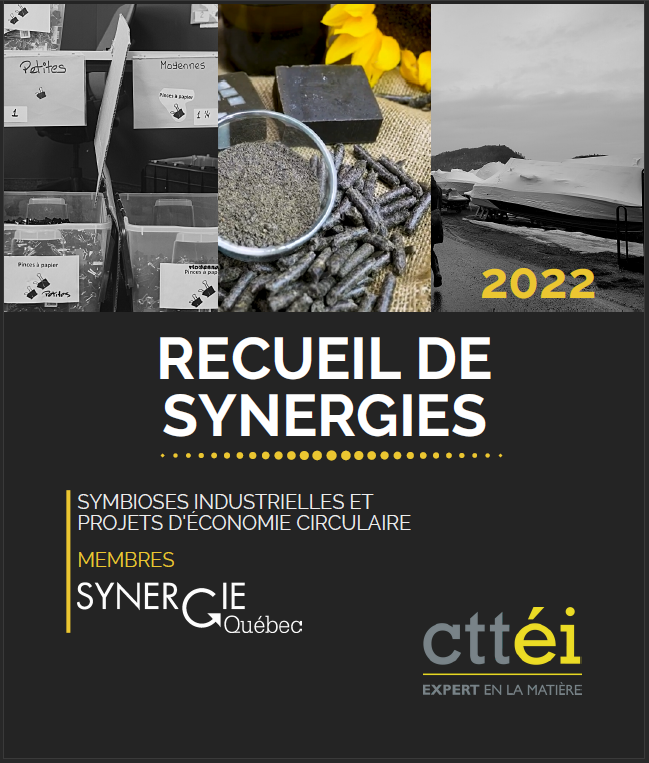 Each of the thirteen concrete examples of synergies is presented by the industrial symbiosis that initiated and accompanied it. These documented success stories show a great diversity in the materials, the exchange and sharing modalities, and in the sectors and types of companies involved in the shift towards the circular economy.
" When the wind of change blows, some build walls, others build windmills. We chose this proverb to illustrate synergies in order to pay tribute to the work of the facilitators of symbioses and to the entrepreneurs who are open to circular innovation," explains Claude Maheux-Picard, executive director of the Centre de transfert technologique en écologie industrielle (CTTÉI). "This year's collection shows that the two main success factors in the transition to the circular economy are: the innovative spirit of the entrepreneurs, and the support of the symbiosis facilitators in the field.  
This edition required the collaboration of nearly 20 volunteer facilitators from 13 Quebec industrial symbioses, in addition to the CTTÉI's expertise in calculating spinoffs. Thus, convincing benefits are put forward: volume of materials diverted from landfill, reduction of greenhouse gas emissions, financial savings, job creation, skills transfer, etc.
The publication of the compendium is highly anticipated in the sustainability ecosystem and in the educational community. It can be downloaded free of charge from https://www.cttei.com/ and https://synergiequebec.ca/. The 2021 edition of the Synergy Compendium has been downloaded over 2800 times since May 2021.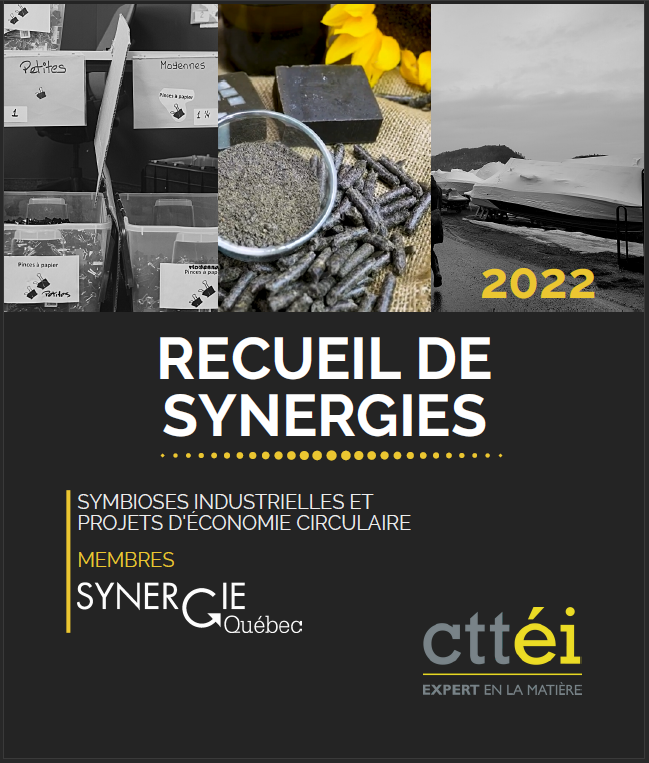 Collection of synergies 2022
The Synergy Collection in figures  
3 collections published since 2020
More than 50 successful case studies in 3 years
13 symbioses represented in 2022
Over 80 companies and stakeholder organizations involved
About the Synergie Québec community
The Synergie Québec community is a community of practice dedicated to the development of industrial and territorial symbioses in Quebec and led by the CTTÉI. A reference point for the creation, development and animation of symbioses, this network brings together 23 industrial and/or territorial symbioses, more than 60 animators, and 3300 companies driven by the desire to achieve financial gains, contribute to local growth while promoting sustainable development.
Synergie Québec provides training, webinars and experience sharing, reference tools, support and guidance for resource exchange as well as applied research services and visibility to all those involved in the transition to the circular economy.
About the CTTÉI
Since 1999, the Centre de transfert technologique en écologie industrielle has been developing and sharing unparalleled expertise in waste management. It increases the performance of businesses and communities through research and development of innovative approaches and technologies, of which the Synergie Québec community is a part. The CTTÉI is affiliated with the Cégep de Sorel-Tracy.