Regional actors in action
On April 26, the Société d'aide au développement de la collectivité (SADC) de la Haute-Côte-Nord team invited its partners to an interactive training workshop, Circulab, to rethink the development of wood residues from the construction, renovation and demolition (CRD) sector.
Offered by the Centre for Technology Transfer in Ecology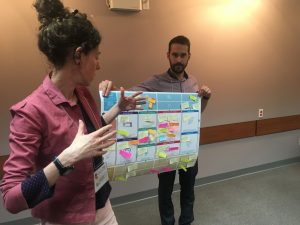 industrial (CTTÉI)The Circulab is a playful awareness tool aimed at rethinking linear business models and bringing out innovative solutions. Initially developed in France by WiithaaThe Circulab has been adapted to the Quebec business context by the CTTÉI.
The Circulab as a tool for reflection
Development agents, innovation advisors, representatives of municipal organizations, producers, citizens... Circulab involves a variety of stakeholders engaged in the same reflection: how to concretely build a more circular economy on the territory?
The objective of the workshop is to look at an issue from every angle and use circular economy strategies to radically rethink the business model and create value... locally!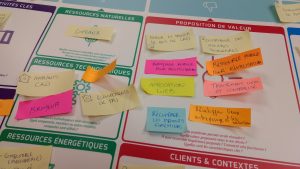 Accompanied by the CTTÉI, the participants quickly overflowed with innovative ideas for adding value to CRD wood. In spite of the regional challenges of sustainable management of this resource, many avenues were explored!
Tempted by the experience?
To discover the opportunities of the circular economy, to learn how to reconcile business and sustainable development, to foster cooperation between diverse actors... contact us!