Sorel-Tracy, March 17, 2022. The 13th International Congress on Supercritical Fluids will be held in Montreal, in person, from May 15 to 18, 2022. Registration is open to scientists, professionals and students from around the world who are interested in these clean technologies.
TheInternational Society for Advancement of Supercritical Fluids (ISASF), the Centre for Technology Transfer in Industrial Ecology (CTTÉI) and theUniversity of Alberta are proud to host this event for the first time in Canada. The conference will focus on how supercritical fluids are meeting the growing demand for sustainable processes and products while saving energy and resources.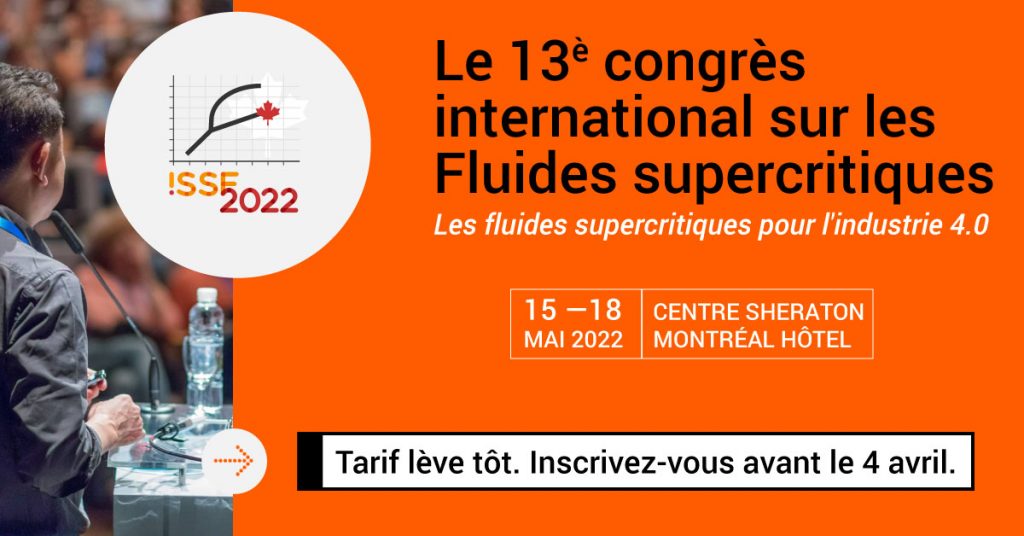 Supercritical fluids: clean technologies and promising opportunities
Supercritical fluids are substances that acquire unique characteristics, between those of a liquid and a gas, when exposed to a specific temperature and pressure. Carbon dioxide (CO2), one of the best known and most widely used supercritical fluids, becomes an excellent solvent when it exceeds 31 degrees Celsius and 72 bar simultaneously. It is a good alternative to petroleum-based organic solvents, which are known to be harmful to health and the environment. For example, supercriticalCO2 is used to extract natural products such as vegetable oils, essential oils, antioxidants, bioactive agents and other molecules of interest, without any deleterious impact on the environment.
Supercritical fluids, including hydrothermal oxidation, also offer many application opportunities; sterilisation and cleaning of medical equipment, treatment of industrial residues, recycling, treatment of pharmaceutical compounds and polymers.
According to ISSF 2022 Chair, Professor Feral Temelli of the University of Alberta: " This Congress is aimed at both academics and government officials as well as industry looking for innovative clean technologies for a variety of applications and in many sectors.
Early bird registration
The Congress will take place at the Centre Sheraton Montreal Hotel from 15 to 18 May 2022. Presentations will be held in English. Until April 4, register at the "early bird" rate to receive a discount of up to $200 Canadian.
For more information and the programme, please visit the IFFS 2022 website.
To register, click here.          
About ISASF
Since 1986, the International Society for Advancement of Supercritical Fluids (ISASF) has been a non-profit organisation. It promotes the knowledge and applications of supercritical fluids by organising international scientific meetings. https://supercriticalfluidsociety.net/
About the CTTÉI
Since 1999, the Centre de transfert technologique en écologie industrielle has been developing and sharing its unparalleled expertise in waste management. It increases the performance of businesses and communities through research and development of innovative approaches and technologies in industrial ecology. The CTTÉI is affiliated with the Cégep de Sorel-Tracy. www.cttei.com
About the University of Alberta
The University of Alberta, located in Edmonton, ranks among the top five universities in Canada, particularly in the research sector, and among the top 150 universities in the world. It has 40,000 students in a variety of programs. Researchers in the College of Natural and Applied Sciences conduct innovative research in supercritical fluid technologies. https://www.ualberta.ca/