Sorel-Tracy, August 29, 2022 - Three student interns from the Cégep de Sorel-Tracy enjoyed their scientific research internship experience at the Centre de transfert technologique en écologie industrielle (CTTÉI) during the summer of 2022.   
Léa Chagnon, Victoria Lajoie and Alex Picard, students in natural sciences at the Cégep de Sorel-Tracy, spent a fruitful summer as interns at the CTTÉI. Supervised by the laboratory, project management and research staff, they participated directly in the projects underway at the research center.
" The advantage of doing an internship at Cttéi is that it is directly related to what we learn at school, especially in chemistry and biology. In addition to being practical, because the Centre is located across the street from the Cégep, we were very independent. This really made a difference compared to a classic summer job: here, we were trusted a lot. We discovered research, whether it was in the office or in the laboratory ", specified Léa and Victoria at the end of their internship.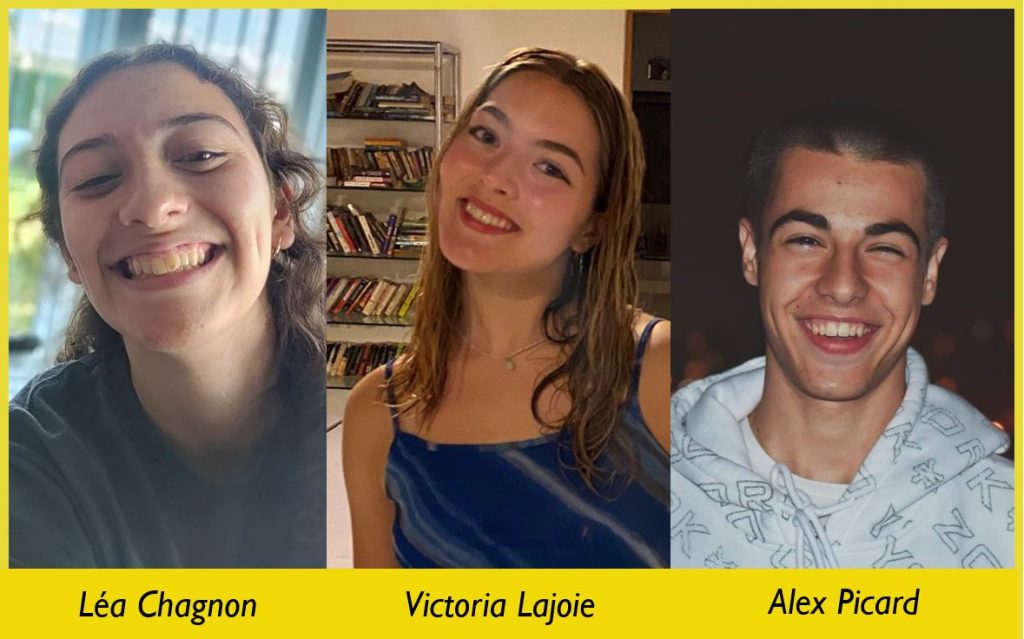 Indeed, the students worked on "real" applied research subjects: biomethanization, valorization of materials in cement pigment, purification of ferrous sulfate.
Among other things, they were able to observe and participate in the use of advanced laboratory equipment, discover the principle of hydrothermal oxidation, the conditioning and grinding of batteries in order to recover critical minerals.
A variety of learning and benefits
Léa, Victoria and Alex come from Contrecoeur, Verchères and Varennes. " We chose the Cégep de Sorel-Tracy because the learning is personalized and human. The professors are available and the environment values collaboration more than competition. We had the same reception at the CTTÉI.
While this experience is valuable to the students, it is equally valuable to the CTTÉI work team. " We are really happy to have the support of students during the summer. They bring their curiosity and motivation, and we show them how the rigorous but creative work of a research center unfolds," explains Julie Gendron, director of the laboratories.
The CTTÉI, which specializes in the recovery of industrial waste, the development of clean chemical processes and the transition to a circular economy, welcomes students from the Cégep de Sorel-Tracy every year, whether they are interns or employees, during the winter and summer sessions and during school breaks.
For questions related to student employment and internships at the CTTÉI, contact Jean Paul Ndoreraho, Research Advisor, at jean.paul.ndoreraho@cttei.com
About the CTTÉI
Since 1999, the Centre de transfert technologique en écologie industrielle has been developing and sharing its unparalleled expertise in waste management. It increases the performance of businesses and communities through research and development of innovative approaches and technologies in industrial ecology. The CTTÉI is affiliated with the Cégep de Sorel-Tracy.