Sorel-Tracy, September 12, 2023 - A new industrial symbiosis is born in Pierre-De Saurel, thanks to an agreement between major institutional and economic economic development players in the Sorel-Tracy region. The City of Sorel-Tracy, the MRC de Pierre-De Saurel and Développement économique Pierre-De Saurel invite local businesses and organizations to take advantage of this new service, which is designed to develop industrial synergies that will benefit both the economy and the environment.
A industrial symbiosis is a network of companies, organizations and communities, linked by exchanges of residual materials, expertise, equipment and services. The aim of a symbiosis is to make the most of all the resources that enter, leave or are present in a given territory. One person's waste becomes another's resource. Participating companies see their waste management costs reduced, which improves their competitiveness and resilience to economic or health shocks.
That's why the Ville de Sorel-Tracy, the MRC de Pierre-De Saurel, Développement économique Pierre-De Saurel (DÉPS), the SADC Pierre-De Saurel, the Société des parcs industriels de Sorel-Tracy (SPIST) and the Chambre de commerce et d'industrie de Sorel-Tracy (CCIST) have joined forces to help the region make the transition to a circular economy. As a result, the greater Sorel-Tracy region is now officially equipped with a industrial symbiosis. It will be part of the Montérégie Circulaire project run by Comité 21 Québec, which is already active in other parts of the Montérégie region.
The region will benefit from the expertise and network of Comité 21's Montérégie Circulaire, since Comité 21's circular economy advisors will be responsible for identifying possible links between companies and supporting them in their implementation. They will also be able to draw on the technical and scientific expertise of the CTTÉI, a pioneer in the circular economy and the implementation of industrial symbioses in Quebec, and leader of the Synergie Québec community of practice. 
Economic development organizations will take over when financial support is required, while the City and the MRC will facilitate the implementation of promising projects for the region that may emerge from the process.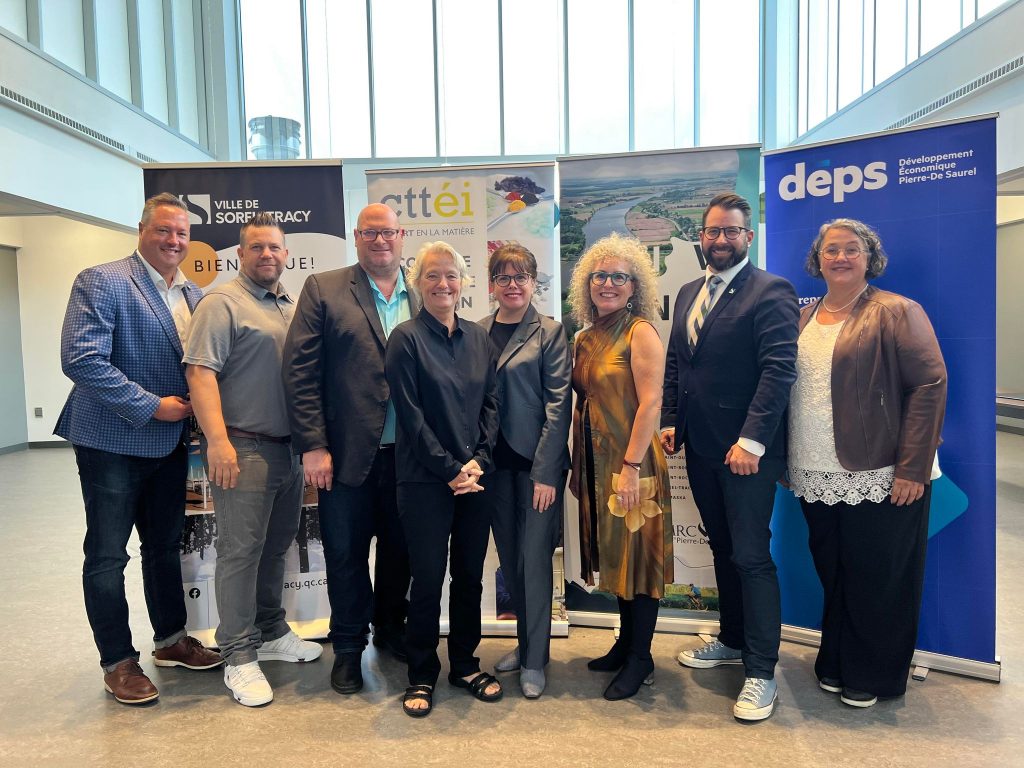 "The creation of industrial symbiosis is directly in line with the objectives of the Montérégie circular economy roadmap initiated by the Conseil régional de l'environnement de la Montérégie," says Sylvain Dupuis, Prefect of the MRC Pierre-De Saurel.
"The environment is a top priority for the City of Sorel-Tracy. This project enables local companies to support each other in reducing the impact of their industrial activities on the environment," says Patrick Péloquin, Mayor of Sorel-Tracy.
"We at DÉPS are proud to be part of this concerted effort. It is now essential for companies to put the environment first," concludes David Plasse, General Manager of DÉPS.
Starting this autumn, our circular economy advisors will be contacting companies in the region. At the same time, organizations wishing to do so will be able to call on Comité 21 to discover new business opportunities using their residual materials.
In addition to demonstrating a willingness to manage resources collectively, the development of a industrial symbiosis constitutes an advantage in favor of the attractiveness of the Sorel-Tracy region. Indeed, more and more economic opportunities now depend on a region's ability to demonstrate that its industrial capabilities are combined with industrial valorization expertise and sound environmental practices. 
Thanks in part to the Virage vert pilot project, initiated in 2022 by SADC Pierre-De Saurel and Comité 21 Québec, and involving Botanix Comptoirs Richelieu, GSR Construction Décontamination, Recyclo-Centre and Sablage Peinture Richelieu, we were able to validate the benefits and keen interest of local businesses in receiving support in adopting the circular economy concept and maximizing its spin-offs.