Several members of the Centre de transfert technologique en écologie industrielle will be traveling to Lyon, France, the week of October 9-13, 2023, to take part in collaborative circular economy events between France and Quebec.
Claude Maheux-Picard, Pauline Nazaret and Astrid Debeissat, of the Center de transfert technologique en écologie industrielle (CTTÉI) will contribute to the work on advancing the circular economy in both countries by participating in two major events:
The Entretiens Jacques Cartier bring together, alternately on each territory, francophone experts and decision-makers from Canada's Francophonie and France's Auvergne-Rhône-Alpes region. The aim of this event is to share knowledge and experience from the economic, academic, institutional, cultural and scientific worlds.
The show Pollutec is the leading international trade show for environmental and energy solutions, and has been in existence for 45 years. It showcases equipment, technologies and services for preventing pollution and implementing sustainable development.
The economy of functionality and cooperation at the heart of Franco-Quebec collaboration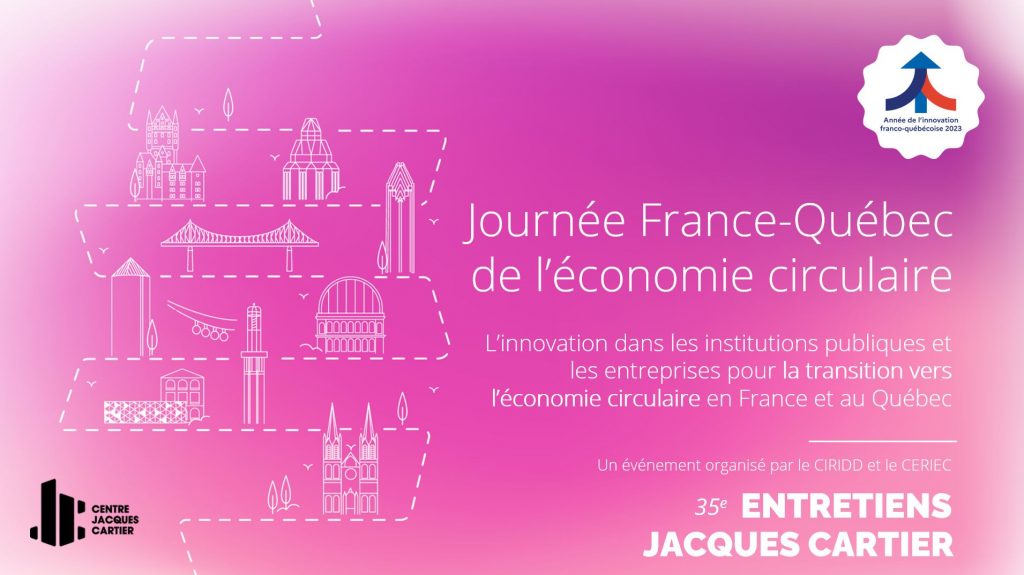 Among the various activities on the program, the CTTÉI team will be accompanying four member companies of the 2021-2023EFC Québec cohort and their representatives, at the France-Québec Circular Economy Day to be held on Wednesday, October 11, as part of the 35th Entretiens Jacques Cartier.
The second round table on Wednesday, October 11, 2023 will be devoted to exchanges between representatives of Quebec and French companies on the theme: " Economy of functionality and cooperation (EFC): transforming the business model of companies ".
Marc-Antoine Auger, of CGP Expaland Félix Bégin, ofAquatechPierre Naider Fanfan, of Probiosphèreand Jean-François Lévêque, from Jardins de l'écoumène will talk about how the economy of functionality and cooperation enables companies to transform their economic model, by building high value-added offers, promoting their innovations and know-how, and integrating social and environmental issues.
The round table is organized jointly by the Quebec and French partners, CERIEC and CIRIDD respectively.
As a reminder, since 2021, the CTTÉI has been coordinating the Economy of Functionality and Cooperation coaching program for Quebec companies. This program is supported by the EFC Québec consortium, founded by the following six organizations:
It receives financial assistance from the Quebec government under the Action-Climat Québec program, and is in line with the objectives of the Plan for a Green Economy 2030.
To find out more about EFC Québec's participation in the Entretiens Jacques Cartier, click here.

To find out more about the France-Quebec Circular Economy Day, click here.

To find out more about the economy of functionality and cooperation in Quebec, click here.
This trip is supported by the Ministère des Relations internationales et de la Francophonie du Québec and the Ministère de l'Europe et des Affaires étrangères de la République française, as part of the Commission permanente de coopération franco-québécoise.