A showcase for applied research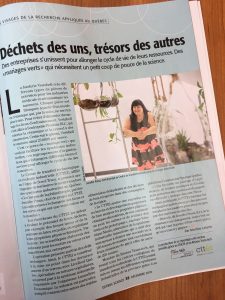 An agreement between the Réseau Trans-tech des centres collégiaux de transfert technologique and the science popularization magazine Québec Science makes it possible to promote applied research. Thus, each issue presents promising research projects and their spin-offs for the academic and economic communities. The Centre de transfert technologique en écologie industrielle (Centre for Technology Transfer in Industrial Ecology), which works on the development of all types of waste, at the
development of clean processes and the deployment of industrial symbioses, which is the subject of a report in the December 2018 issue.
The article depicts the efforts made by the CTTÉI to animate and perpetuate the network of 21 Quebec industrial symbioses that it supports. The impact of these initiatives and the challenges faced by the project leaders are discussed. A model of sustainable and socially responsible economic development that can be replicated around the world!
You can buy Québec Science in store or online.