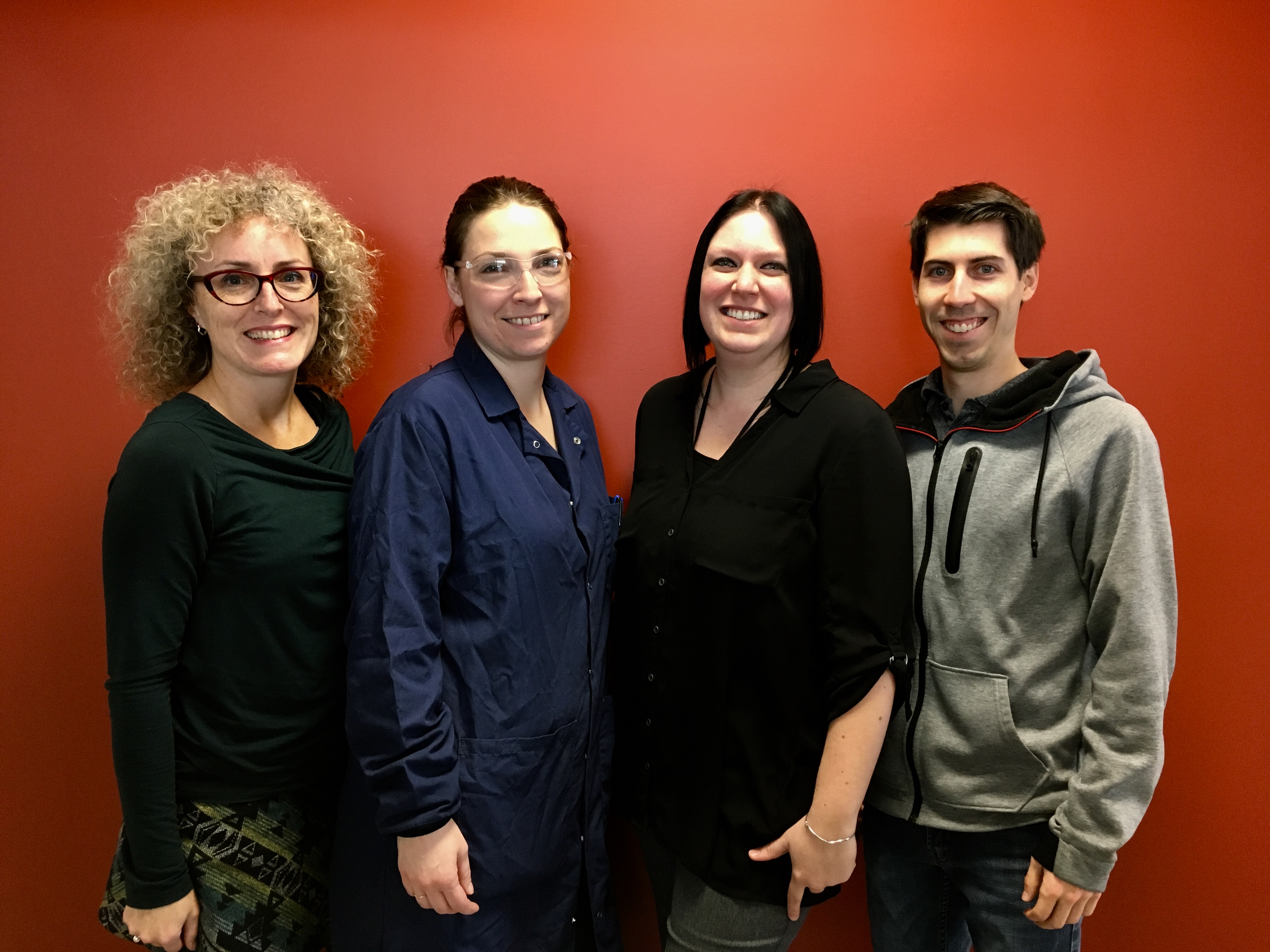 As the company's needs are growing due to increasing sales, three new employees have recently joined the Centre for Technology Transfer in Industrial Ecology (CTTEI).
First of all, Weena Durand joined the CTTÉI team as a laboratory technician. Ms. Durand holds a DEC in Biotechnology Laboratory Techniques from the Cégep de Sherbrooke. She also received an award of distinction from the Cégep for her internship for the work done in the research team of Dr. Nathalie Bissonnette, Agriculture and Agri-Food Canada (Lennoxville Experimental Farm). Since leaving school in 2010, Ms. Durand has had the opportunity to gain experience in her field by performing several functions including ICP/LECO/SKALAR analysis of samples received from farmers in accordance with current ISO standards. She also has several years of experience in microbiology, which is a major asset for the CTTÉI.
Valérie Charland has come to fill a position as Communications Officer. Ms. Charland holds a Bachelor of Arts degree from the Université de Montréal representing three university certificates in the following fields: writing, public relations and advertising. She also acquired experience in event organization and promotions during her time as marketing director at Les Promenades de Sorel. Her mandate will be to make the CTTÉI better known and to promote the company through several advertising platforms and by organizing events according to the needs defined by the communication plan in place. Ms. Charland comes to the company with a positive energy.
Michaël Desrochers, for his part, will hold the position of project manager for tailings development. Mr. Desrochers holds a bachelor's degree in biotechnological engineering and a master's degree in environmental management in the cooperative system from the Université de Sherbrooke. He has acquired experience in organic waste reclamation over the last few months as a project manager for Solinov Inc. He has carried out several projects during his time with the company, including participation in sampling and project follow-up activities at client sites and the drafting of technical reports and follow-ups for the firm's clients. He is ready and motivated for this new professional challenge that will allow him to return to his hometown.
The CTTÉI is an applied research centre affiliated with the Cégep de Sorel-Tracy. Its mission is to improve the performance of businesses and communities through research and development of innovative approaches and technologies in industrial ecology. In addition to carrying out numerous R&D projects aimed at finding innovative outlets for industrial residues, the CTTÉI leads the Synergie Québec Community of Practice to co-create tools and develop expertise to operationalize and build a more circular economy.