The third Collection of synergies gathers 13 concrete and recent examples of synergies, presented by the territorial industrial symbioses that initiated and accompanied them.
This edition required the collaboration of nearly 20 volunteer facilitators from these 13 Quebec industrial symbioses, in addition to the CTTÉI's expertise in calculating spinoffs. As a result, conclusive benefits are being put forward: 
volume of material diverted from landfill,
reduction of greenhouse gas emissions,
financial savings,
job creation,
transfer of skills, 
etc.
This collection puts into context the success factors: the spirit of innovation, and the field support of the symbiosis facilitators.
The Synergy Collection in figures
3 collections in 3 years
56 synergy sheets in 3 years
13 symbioses represented in 2022
Over 80 companies and stakeholder organizations involved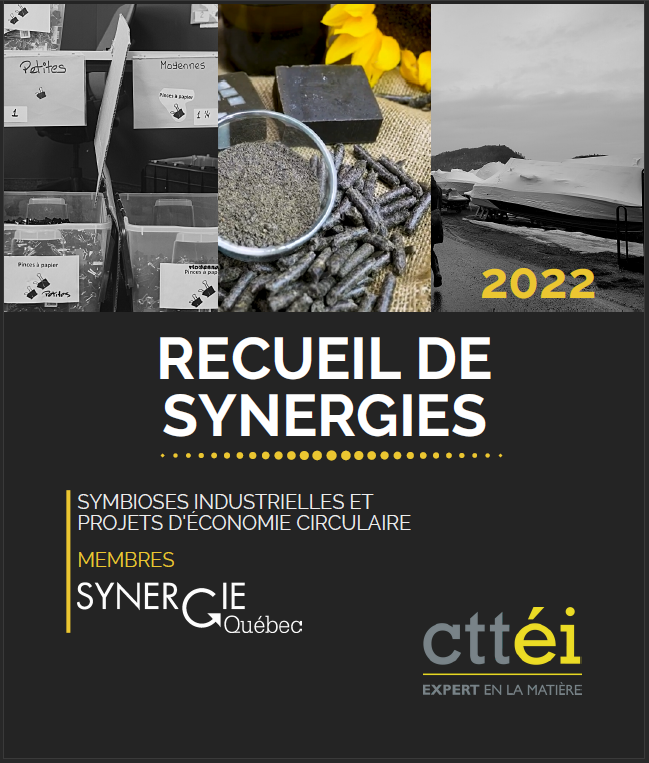 Collection of synergies 2022
Consult the Second Collection of Synergies published in 2021.
See the First Synergy Collection published in 2020.
The Synergie Quebec community
Industrial symbioses link companies that exchange resources (waste, energy, expertise, etc.) within a local area. Called "synergies", these exchanges allow each year to divert tons of waste from landfills and represent savings for the participants. This work is the result of the actions of the Synergie Québec community of practice, which makes these exchanges a reality throughout Quebec.
Is this circular economy consulting service available in your area? Visit www.synergiequebec.ca to find out.