The CTTÉI is taking part in the Assises de l'économie circulaire organized by RECYC-QUÉBEC on November 21, 2023 at the Palais des congrès de Montréal.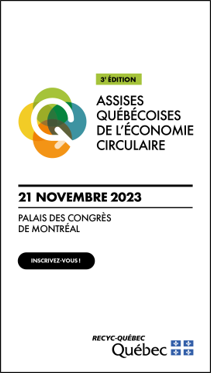 A flagship event for the circular economy in Quebec, the third edition of Assises represents a unique opportunity to continue and accelerate the progress made in recent years in promoting the circular economy in Quebec.
The day will be hosted by journalist and presenter Isabelle Craig. She will be joined byEmmanuelle Géhin, President and CEO of RECYC-QUÉBEC, and Benoit Charrette, Minister of the Environment, the Fight against Climate Change, Wildlife and Parks.
Among other topics, it will discuss the link between human health and the health of the environment.
Industrial ecology on the agenda
On November 21 at 9:30 a.m., Jennifer Pinna, Circular Economy Advisor at the CTTÉI, will lead a conference entitled "Circularity in municipalities and regions: implementation, issues and solutions".
On November 21 at 1:45 p.m., Claude Maheux-Picard, Executive Director of the CTTÉI, will take part in the conference "Symbioses, économie de fonctionnalité et réemploi : les nouveautés" (Symbioses, economy of functionality and reuse: what's new), with, among others, Pascale St-Germain of Comité 21 Québec and Mario Rousseau of Intellinox Technologies, respectively founding member and member of the EFC Québec business cohort.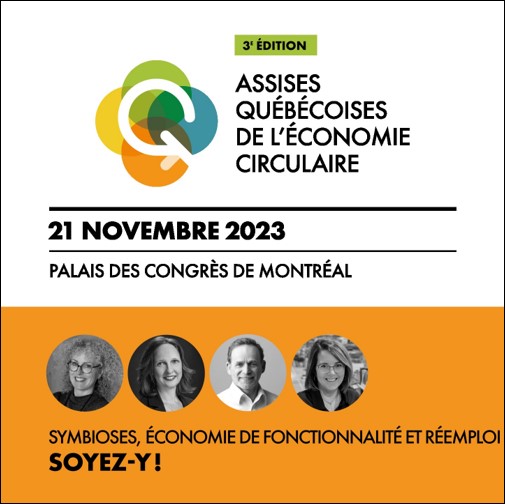 Pre-seating
On Monday, November 20, at 1 p.m., a practical and dynamic workshop open to industries, businesses and institutions (ICI) will bring together long-standing partners of the CTTÉI and expert members of Synergie Québec, with the aim of helping organizations find concrete solutions to their challenges in transitioning to the circular economy.
Synergie Québec is Quebec's network of industrial and territorial symbioses, co-founded and led by the CTTÉI since 2013.
To see the latest news on the subject, follow us on Linkedin or check out the hashtag #EconomieCirculaireQC23.
Since 1999, the Centre de transfert technologique en écologie industrielle (CTTÉI) has been developing and sharing unrivalled expertise in the circular economy and the reclamation of residual materials. It enhances the performance of businesses and communities through research and development of innovative approaches and technologies, of which the Synergie Québec community is a part. The CTTÉI is affiliated with the Cégep de Sorel-Tracy.