On November 11, 2021, the Innovations in Plastics Recycling and Recovery event will take place, jointly organised by Coalia, Kemitek, Innofibre and the CTTÉI.
The four college technology transfer centres and several industrialists will present innovative approaches and technologies to characterise, treat, recover and recycle industrial plastic waste.
The event will be held in hybrid mode. The fastest guests will be able to register in person, within the limits of the authorised capacity. They will be welcomed at the Thetford Mines Convention Centre and will enjoy a networking dinner.
If they are interested, they will also be able to visit the two centres affiliated with the Cégep de Therford Mines, Kemitek and Coalia. For the others, it will be possible to attend the event online.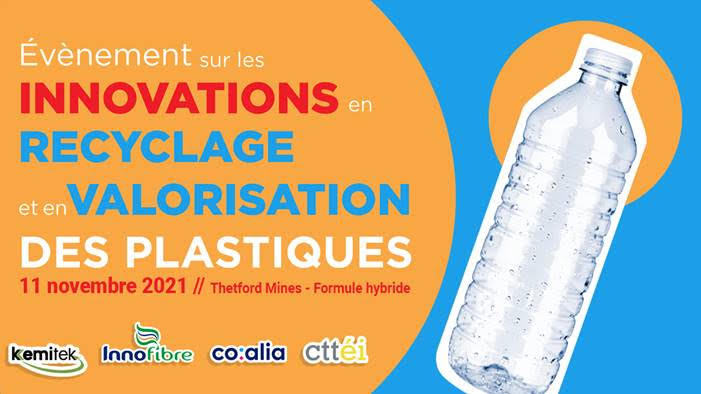 Full programming
The event will be hosted by M. Yanick Villedieua science journalist and presenter.
The conference will be opened by Sophie Langlois-Blouin, Vice-President of RECYC-QUÉBEC. RECYC-QUÉBEC.
It will continue with a dynamic and interactive presentation of innovations in plastics recovery and recycling by experts from the four transfer centres: techno-economic analysis, sorting, treatment, thermo-mechanical or chemical recovery, use of supercritical fluids, research into outlets, and many others.
Finally, a panel of leading industrialists will share and discuss their challenges, approaches and innovative solutions in the reuse and processing of plastics.
To consult the complete programme, go to the registration link.